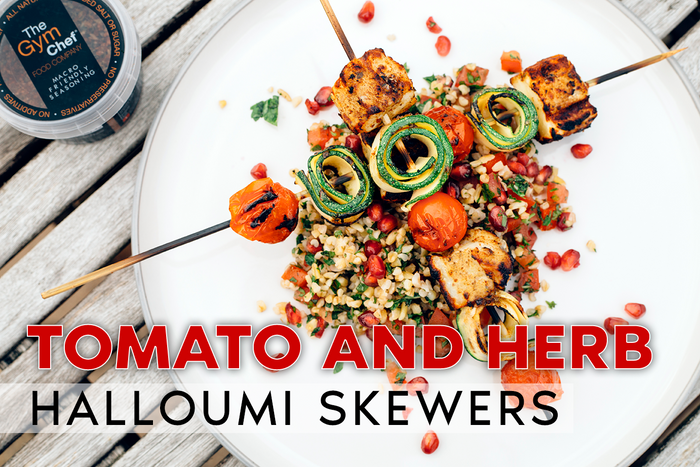 These vegetarian halloumi skewers are a little fiddly to prepare but they look impressive and taste even better. The tomato and herb seasoning is really smokey once barbecued and complements the herby fresh tabbouleh perfectly. A great post workout meal with some extra carbs from the bulgar wheat and healthy fats.
-----------
Top level health statistics, per serving (two skewers and tabbouleh)
Calories - 345 | Carbs - 30g | Fat - 18g | Protein - 17g
-----------
Ingredients
Serves 4 (2 skewers per person)
8 skewers required
HALLOUMI SKEWERS:
2 tsp The Gym Chefs Tomato and Herb Seasoning
225g pack of light halloumi, cut into chunks
16 cherry tomatoes
1 courgette, sliced in thin strips
1 tbsp olive oil
TABBOULEH:
90g bulgar wheat
10g fresh mint, finely chopped
10g fresh parsley, finely chopped
2 large plumb tomatoes, deseeded and diced
Seeds from half a pomegranate
1 tbsp olive oil
Salt and pepper
-----------
Preparation time: 30 minutes | Marinade Time 30 minutes | Cooking time: 10 minutes
-----------
Method
Cook the bulgar wheat according to packet instructions. Generally, place the bulgar wheat in a bowl and cover with boiling water. Use the ratio of double water to bulgar wheat and leave to sit for 20 minutes.

Slice courgette into fine strips. The easiest way to achieve this is to slice the courgette in half, length ways, lay the flat surface on the board and the slice along in thin strips.

Cut the halloumi into chunks, allowing two per skewer.

Build the skewers; start with a tomato, then roll the courgette in a spiral and skewer, followed by a chunk of halloumi. Repeat twice for each skewer.

Combine the olive oil and seasoning mix in a bowl and brush the skewers, paying particular attention to the halloumi as it soaks up the mixture.

Cover your skewers in cling film and leave to marinate for up to 30 minutes.

Heat the BBQ while your skewers are marinating.

Meanwhile, drain any excess liquid from the bulgar wheat. Deseed and dice tomatoes, finely chop herbs and remove seeds from the pomegranate.

Combine tomatoes, herbs and pomegranate with the bulgar wheat and add a tablespoon of olive oil. Season with salt and pepper to taste.

BBQ skewers, turning regularly to stop them burning. This should take between 10 and 15 minutes.

Serve the tabbouleh and skewers together, and enjoy!
-----------
All our seasoning blends are:

All natural with no nasties
Contain no added salt or sugar
Free from artificial colourings
No additives or preservatives
Unique concentrated flavour - No other seasoning like this on the market
High pepper content to encourage a thermogenic reaction to help boost metabolism. 

 Grab your Tomato and Herb seasoning today