Chilli Pack & Herb Pack Bundle (Best Seller)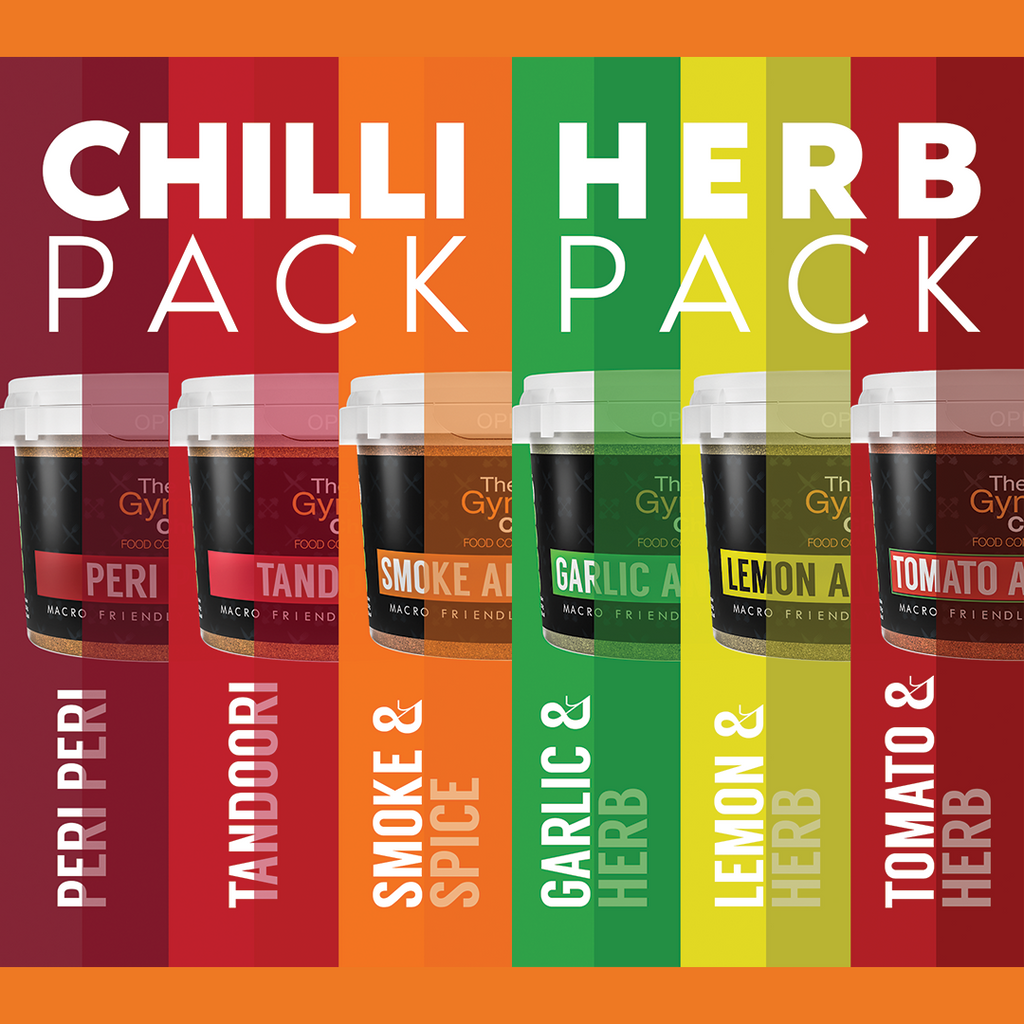 Chilli Pack & Herb Pack Bundle (Best Seller)
LET THE BATTLE OF THE SPICES BEGIN..
Get your recipe at hand it's time to prepare your ingredients for battle! Your armed with an arsenal of seasonings.
THE CHILLI PACK - Armed with spice & flavour  (includes)
Peri  Peri -  A spicy blend of chillies, paprika, garlic and herbs with a zesty twist. Our peri peri mix is great simply sprinkled on fish and poultry and cooked. Can be used as a light marinade when mixed with lemon juice and olive oil.
Tandoori - A north Indian spice mix. This mix is ideal for the heat lovers. Packed full of chillies, garlic, turmeric, cumin, coriander and herbs. No fake red colouring in our products. Simply sprinkle on food and cook. Can also be used as a marinade: mix with tomato paste, lemon juice and fat free yogurt.
Smoke & spice- One of The Gym Chef's signature range. A smokey blend of herbs and spices. This blend packs a punch and is great for adding a flavour to any dish. Perfect for eggs, chicken, ribs and steak. Can be used as a rub on meats or added to stir-frys.
THE HERB PACK - Loaded with a refreshing blend of spice (includes)
Lemon & Herb - A tasty zesty blend of lemon and herbs. This delicious seasoning mix lifts any dish with its citrus and subtle rosemary flavour. Great for chicken, fish and even mixed into rice
Garlic & Herb - Lots of garlic, lots of herbs. Our garlic and herb seasoning pots are fully loaded with garlic flakes, parsley, mixed herbs (thyme, marjoram, oregano, basil, sage) and pepper. Great sprinkled on potatoes, chicken and fish.
Tomato & Herb - The taste of summer in your tupperware. A lovely tomato, herby aromatic blend. Bringing the flavour of the Mediterranean to your meal prep.
How many servings per pot?
Our seasoning blends come in 50g pots. We suggest using between 2g and 5g per serving. That's enough for between 10 and 20 meals per pot. 
Guideline Nutritional Information 
A typical pot contains:
| | | | | |
| --- | --- | --- | --- | --- |
|   | Per 100g | Per tub 50g | Per 15g serving | Per 5g serving |
| Energy kJ | 1719 | 859.5 | 257.85 | 85.95 |
| kcal | 408 | 204 | 61.20 | 20.4 |
| FAT | 11.1 | 5.55 | 1.67 | 0.555 |
| of which Saturates | 1.6 | 0.8 | 0.24 | 0.08 |
| Carbohydrates | 60.3 | 30.15 | 9.05 | 3.015 |
| of which Sugars | 19.8 | 9.9 | 2.97 | 0.99 |
| Protein | 16.7 | 8.35 | 2.51 | 0.835 |
| Salt | 0.13 | 0.065 | 0.02 | 0.0065 |